SPEAK UP! 雙語會話
A: OK then, tell me what you would do if you hit the jackpot.
B: First things first, I would buy a beautiful mansion with a large landscaped garden, including a hedge maze, and a large lake with a family of white swans.
A: Wow, you've really thought it through in detail. What next?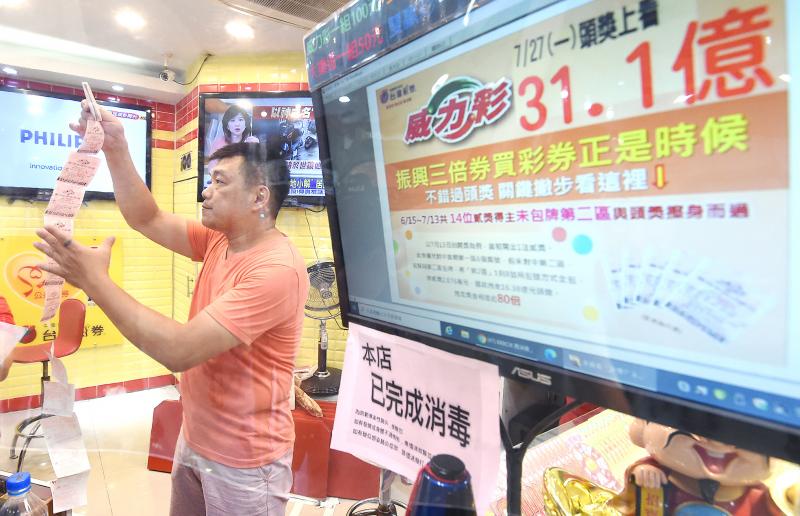 Photo: Liao Chen-huei, Liberty Times 照片:自由時報記者廖振輝
B: Next, I will found a television company called Happy News TV. It will cover only positive and uplifting news stories. There's too much negative news in the world today, so I want to spend my money spreading happiness.
A: I like the idea, but I think there's actually no such thing as positive or negative news, just truth and untruth.
(Edward Jones, Taipei Times)
A: 不然,告訴我如果你中了頭獎會怎麼做呢?
B: 首先,我要買一間美麗的豪宅,要有一個大型景觀花園,包括一座用樹籬笆做的迷宮,和一個大湖,裡面還有一群白色的天鵝。
A: 哇,你想得好仔細。接下來呢?
B: 接下來,我要創立一家叫快樂新聞的電視台,專門報導正面的、振奮人心的新聞。現在的世界裡,已經有太多負面新聞了,所以我想把錢花在散播歡樂上。
A: 我喜歡這個主意,不過我覺得事實上沒有所謂的正面或負面的新聞,只有真相與非真相。
(台北時報張聖恩譯)
English 英文:
Chinese 中文:
Comments will be moderated. Keep comments relevant to the article. Remarks containing abusive and obscene language, personal attacks of any kind or promotion will be removed and the user banned. Final decision will be at the discretion of the Taipei Times.