SPEAK UP ! 雙語會話
Hey! Look over at that bench! (2/5) 嘿!你看那邊的長椅!(二)
A: That's a lovely scene: a father having a game of soccer with his two boys.
B: I think those are portable goal posts. They must have brought them with them.
A: My dad used to take us to the park to play soccer when we were kids, but it was really just an excuse for him to kick a ball around. My brothers and I weren't all that interested.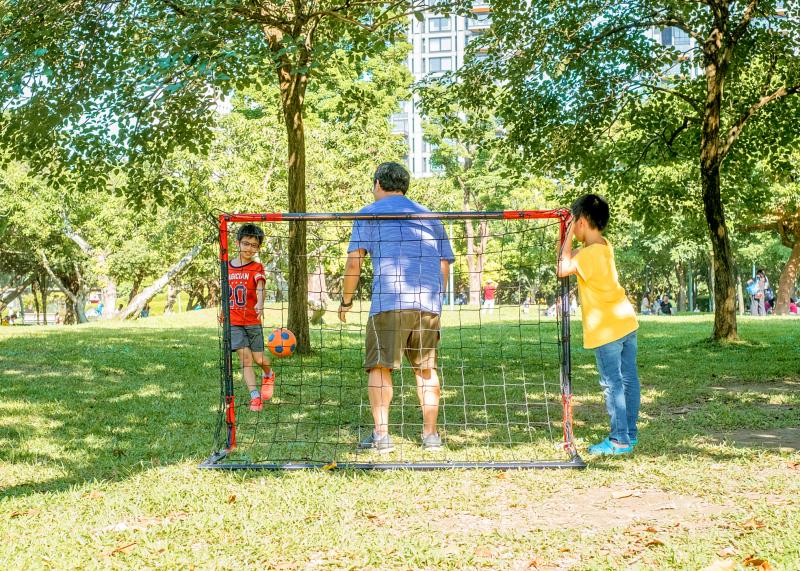 A young boy shoots during a game of soccer in Taipei's Daan Forest Park on Oct. 2. 一名男童踢足球射門。十月二日攝於台北大安森林公園。
Photo: Paul Cooper, Taipei Times 照片:台北時報古德謙
B: These kids are really into it, though. Look at the concentration on that one's face. I think he's going to score. There's no way the father can save that ball.
A: The other one looks bored, though, leaning against the post and just watching.
B: No, I saw him running around a minute ago. I think he's just taking time out to catch his breath.
A: 這真是一幅美好的景象:爸爸帶他兩個兒子一起踢足球。
B: 我猜這是活動式的球門,應該是他們自己帶來的。
A: 小時候我爸會帶我們去公園踢足球,但是這不過是他的藉口,因為這樣他自己就可以把球踢來踢去。我和幾個兄弟並不是那麼有興趣。
B: 但是這兩個小孩真的很喜歡玩欸,看這小孩一臉很投入的樣子。我猜他要踢進球了,這爸爸絕對是擋不下來的。
A: 可是另外一個小孩看起來很無聊的樣子,靠著球門只是看他們玩。
B: 才不是,我一分鐘以前還看到他跑來跑去,我想他只是停下來喘口氣而已。
(Paul Cooper, Taipei Times/台北時報林俐凱譯)
English 英文:
Chinese 中文:
Publication Notes
Language Tip 語文小提示
"really into it"
If somebody is "really into" something it means they are absolutely engrossed or interested in it.
Comments will be moderated. Keep comments relevant to the article. Remarks containing abusive and obscene language, personal attacks of any kind or promotion will be removed and the user banned. Final decision will be at the discretion of the Taipei Times.